04.01.2012 by Valérie Herbin
Troels Vinther answers us..........
1. Congratulations on your contract with Saxo….you must be a happy man? How does this move play into the hopes and dreams of Vinther Troels? Félicitations pour ton contrat avec Saxo... tu dois être un homme heureux ? Que signifie ce transfert au niveau des espoirs et rêves de Vinther Troels ?
It's cool it finally succeeds, it's something I have thought hard, I am really pleased to have the opportunity to develop myself as a rider. I have been on training and have been close to the team last year with good results. So it was the natural development for me now . C'est cool, c'est enfin arrivé ! C'est une chose à laquelle j'ai pensé très fort, et je suis vraiment heureux d'avoir l'opportunité de m'exprimer en tant que coureur cycliste. Je me suis beaucoup entraîné et ai réussi à intéresser cette équipe l'an dernier grâce à mes bons résultats. C'était donc naturel que ça se passe comme ça pour moi.
2. If you had a dream list of realistic future accomplishments what would they be? Si tu avais une liste de rêve de buts réalistes pour le futur, quels seraient-ils ?
I Want to do good in the OneDay in the spring, and the short stage-races. That is where I do the best, and can be even better. Je veux être bon dans les courses d'un jour du printemps et dans les petites courses à étapes. C'est dans celles-là que je suis le meilleur, et ça peut-être encore mieux.
3.Winter prep – up to you, or does the team tell you what they want you to do? Have you met the team yet? Tu fais ta propre préparation d'hiver, ou c'est l'équipe qui te dit ce qu'elle veut que tu fasses ?
I have a personal trainer from England who lives in Denmark. Phil Manfield whom I am working with since December 2010. And we've only just begun. He manages all my trainings and everything is planned to the smallest detail. I've met the team at the team-building trip to Israel, all of which were very impressive. J'ai un entraîneur personnel qui vient d'Angleterre mais qui vit au Danemark, Phil Manfield avec qui je travaille depuis décembre 2010. Et nous venons seulement de commencer. Il dirige tous mes entraînements et tout est planifié dans le moindre détail. J'ai rencontré l'équipe lors du stage en Israël : tout y était impressionnant.
4.What happened between the years Unibet/Collstrop and now for you? Que s'est-il passé pour toi depuis les années Unibet/Collstrop?
A lot, I struggled a lot with illness and injuries when I drove there and also the next years on the Danish teams Capinordic and Glud Marstrand. but when I trained and rode race, I was good, I won a stage in the Tour de l'avenir in 2009, mountain jersey in the Tour of Denmark and some races in France. uci races in norway....Beaucoup de choses, je me suis beaucoup battu contre la maladie et les blessures quand je roulais avec eux, et même les années suivantes avec mes équipes danoises Team Capinordic et Glud Marstrand. Mais quand je m'entraînais et roulais en course, j'étais bien. J'ai gagné une étape dans le Tour de l'Avenir 2009, le maillot de grimpeur au Tour du Danemark et dans quelques courses en France, j'ai gagné des courses référencées par l'UCI en Norvège...
5.You've had some ups and downs, why stick with cycling? Tu as eu des hauts et des bas, pourquoi t'accrocher au cyclisme ?
Cycling is the world's hardest sport and there is much adversity. And only the strongest who come back to the top level. it's easy when things are going well, but it is in adversity you show how strong you are. Le cyclisme est le sport le plus dur au monde et il y a beaucoup de concurrence. Seul les plus forts reviennent au top niveau. C'est facile quand les choses vont bien, mais c'est dans l'adversité que tu montres combien tu es fort.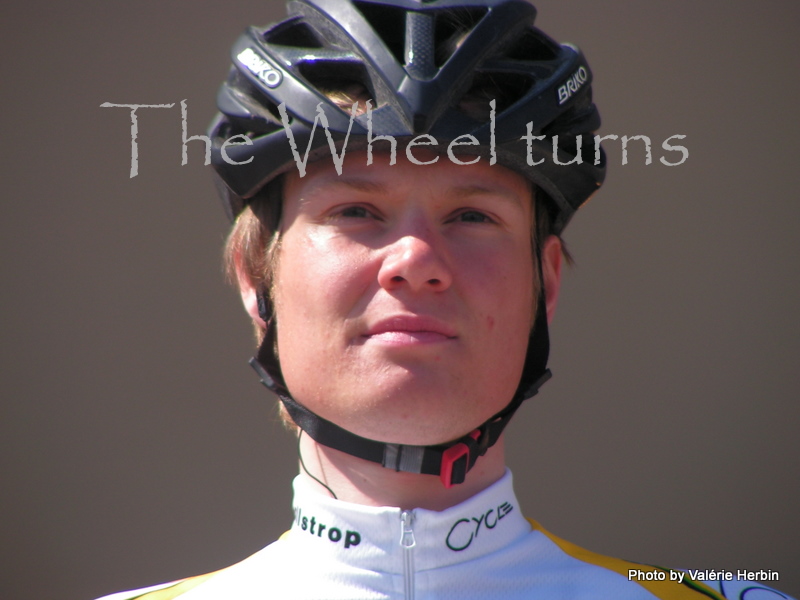 6.What was your best year? What's your best win? Quelle a été ta meilleure année ? Ta plus belle victoire ?
2012, I won many races and I rode with a super-team. 2012, j'ai gagné beaucoup de courses et j'ai roulé avec une super équipe.
GP Herning, which I won in front of Lars Bak who had just been No. 5 in Paris roubaix. Lars is from the same hometown as me and we know each other well. So it was a special victory. GP Herning que j'ai gagné devant Lars Bak qui venait juste de finir 5ème de Paris-Roubaix. Lars est originaire de la même ville que moi et nous nous connaissons bien. C'était une victoire spéciale.
7.What has been your proudest moment on the bike? De quel moment as-tu été le plus fier sur un vélo ?
When I won the victory in tour de l'avenir in Sedan. It was a big goal for me this year and my grandfather had just died the week before leaving for the race. So I could dedicate the victory to him was the proudest moment. Quand j'ai gagné l'étape de Sedan au Tour de l'Avenir. C'était un grand objectif pour moi cette saison-là, et mon grand-père venait juste de mourir une semaine avant que je parte pour la course. Donc, avoir pu lui dédier une victoire est ma plus grande fierté.
8. Who or what inspired you to become a cyclist? When did you start cycling, and why? Do you come from a cycling family? Qui ou quoi t'a inspiré à devenir cycliste ? Quand as-tu commencé le vélo, et pourquoi ? Viens-tu d'une famille de cyclistes ?
I do not come from a cycling family, no one in the family bicycles. Of course, Bjarne Riis when he won the tour. began training in 1999, racing in 2000. Je ne viens pas d'une famille de cyclistes. C'est la victoire de Bjarne Riis qui a eu un retentissement. J'ai commencé à m'entraîner en 1999, et à courir en 2000.
9.How would you categorize yourself as a rider? Comment te définirais-tu comme cycliste ?
Powerful oneday ride. Un coureur puissant pour les courses d'un jour
10. You're still young, only 24, where do you want to be at the end of next year and in five years? Tu es encore jeune, seulement 24 ans, où veux-tu être à la fin de l'année prochaine et dans cinq ans ?
My dream is to do the tour and help Contador to victory, in a few years time. Mon rêve est de courir le Tour et aider Contador à gagner, dans quelques années.
11. What's the funniest thing you've seen from your bike? Quelle est la chose la plus drôle que tu aies vu de ton vélo ?
I do not know, maybe a crash. Je ne sais pas, peut-être une chute.
12. If you could swap places with any other sportsman for a day, who would it be? Si tu pouvais échanger ta place pendant un jour avec un autre sportif, ça serait avec qui ?
F1 Sebastian Vettel. We are almost the same age, but he must surely have the coolest job.
F1 Sebastian Vettel. Nous avons presque le même âge, mais il doit sûrement avoir le job le plus cool.
13. Is there a current rider in the peloton that you most respect and why? Y a-t-il un coureur dans le peloton que tu respectes plus et pourquoi ?
David Millar and Lance Armstrong, they have both done a lot good for cycling and are some of the world's best riders. Lance will always be great for me with his LiveStrong and 7 tour victories . David Millar et Lance Armstrong, ils ont tous les deux fait beaucoup de bien pour le cyclisme et en prime dans les meilleurs cyclistes au monde. Lance sera toujours génial pour moi avec son LiveStrong et ses 7 victoires au Tour.
14. What do you do when you're not racing? What is your ideal holiday location? Que fais-tu quand tu ne cours pas ? Quel est l'endroit idéal pour tes vacances ?
I try to be so much with my old friends from school, both Christmas and New Year, we have traditions. But in the season we won't see you as much as I want. But I meet them when I am in Denmark. J'essaie d'être beaucoup avec mes anciens amis d'école. Pour Noël et le Nouvel An, nous avons des traditions. Mais pendant la saison, nous nous verrons pas autant que je le voudrais. Je les vois quand je suis au Danemark.
Thanks for spending some time with us and all the best for 2012.