13.11.2011 by Valérie Herbin Sarah Düster answers us...........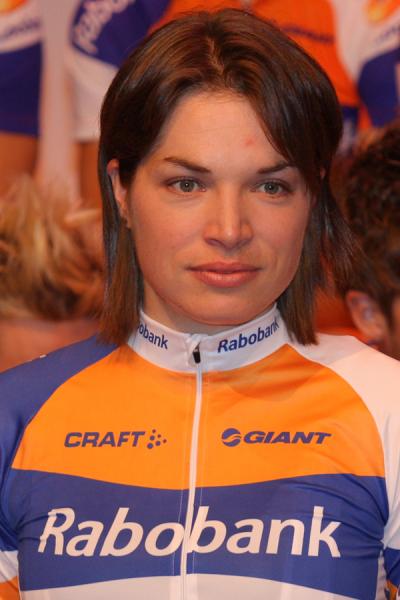 Can you introduce yourself? Who is Sarah Duester? Peux-tu te présenter toi-même ? Qui est Sarah Düster ?
Sarah Düster is a nice girl and she knows what she wants. Sarah Dütser est une fille agréable et qui sait ce qu'elle veut.
Which hobbies do you have next to cycling? Quels loisirs as-tu à côté du cyclisme ?
I like swimming going out with friends going to the cinema... J'aime nager, sortir avec mes amis, aller au cinéma...
When did you first start cycling, how did you get into it and why ? How old were you when you started riding seriously? Quand as-tu commencé le cyclisme ? Comment y es-tu arrivé et pourquoi ? Quel âge avais-tu quand tu as commencé à courir sérieusement ?
I started racing when I was 12 years old and it was for me seriously next to my school but I started professional 2006 and I come into sport because my brother was also a cyclist. J'ai commencé à courir quand j'avais 12 ans et c'était pour moi sérieusement à côté de l'école mais j'ai commencé en tant que professionnelle en 2006. Je suis arrivée dans le cyclisme à cause de mon frère qui était aussi cycliste.
Why did you choose cycling as your sport? Pourquoi as-tu choisi le cyclisme comme sport ?
I choose cycling because I like high speed and always have to attack. I like it because with the bike you see also many nice places. J'ai choisi le cyclisme parce que j'aime la vitesse et qu'il faut toujours être à l'attaque. Je l'aime parce que grâce au vélo, tu vois aussi plein de beaux endroits.
Photo: © Bert Geerts/dcp-bertgeerts@xs4all.nl
What's your riding style? Quel style de cycliste es-tu?
My riding style is most time riding in the front or I attack lots of times. La plupart du temps, je cours devant ou alors j'attaque beaucoup de fois.
What are the things you think you still need to learn as a cyclist? Quelles sont les choses que tu penses devoir encore apprendre en tant que cycliste ?
Biggest influence on your career ? La plus grande influence sur ta carrière ?
My parents have a big influence on my career. Mes parents ont une grande influence sur ma carrière.

How has your season 2011 been for you? Comment s'est passée ta saison 2011 ?
2011 was for the team a real good year. I helped a lot for Marianne to win the Giro Annemiek won the world cup. I wish I could have also more good results. 2011 a vraiment été une bonne année pour l'équipe. J'ai beaucoup aidé Marianne[Vos] à gagner le Giro. Annemiek [Van Vleuten] a remporté la coupe du monde. Je souhaite pouvoir avoir encore plus de bons résultats.

What's your best placing? What performance you are the most proud of? Quel est ton meilleur résultat ? De quelle performance es-tu la plus fière ?
What are your further goals for the 2012 season? How do the 2012 Olympics fit into your plans? Quels sont tes objectifs pour la saison 2012 ? Les JO de Londres 2012 sont dans tes plans ?
My goals are the olympics, it is hard to get one spot but I'll try to make good races in the spring. Mes objectifs sont les JO, c'est difficile d'obtenir sa place mais j'essayerai de faire de belles courses au printemps.
What are the worst and the best things about training? Quels sont le pire et le meilleur aspect de l'entraînement ?
The worst thing in training is to go over your limits and nobody is cheering you and the best thing is to enjoy the ride. La pire chose à l'entraînement est de dépasser tes limites et de n'avoir personne pour t'encourager, et la meilleure est de profiter de la promenade.
How do you rate the current level of women's cycling in Germany? Comment évalues-tu le niveau actuel du cyclisme féminin en Allemagne ?
I think that in Germany, there are not so many girls anymore who have a strong level. At the moment, there are only the older girls like Arndt, Teute and Co and then there is a big gap. Je pense qu'en Allemagne, il n'y a plus autant de filles qui ont un très bon niveau. En ce moment, il y a seulement des filles plus âgées comme Arndt, Teutenberg et compagnie, puis il y a un gros fossé.
Short questions : Questions courtes :
Marianne Vos ? She is a nice teammate and a good teacher to learn dutch.
Elle est une bonne coéquipière et un bon professeur pour apprendre le néerlandais.
Rabobank ? Next year, I will race for Rabobank and I am really excited. L'an prochain, je vais courir pour Rabobank et je suis vraiment excitée.
Ronde van Vlaanderen ? Tour des Flandres ? It's my favourite race, and last year 2 km before the finish the bunch caught me. I like this race so much. C'est ma course préférée, et l'an dernier, le peloton m'a rattrapée à 2 km de l'arrivée. J'aime tellement cette course.
To Sarah, thank you very much for your time and good luck in 2012!
Photo by Anton Vos